The Stutter-Free Speech Program – Adrian Before and After 5 days
The 
The above shows Adrian Before and After Stutter-Free Speech Program. His progress in just five days was remarkable. After the 5-day intensive treatment program is completed in the clinic at Power Stuttering Center in Newport Beach, California, Adrian entered the Transfer Program which is completed back home.
Transfer of Stutter-Free Speech to the Real World
The Transfer Program starts with speaking situations arranged by the client with the clinician's help and advice. The client chooses easy speaking situations and short periods of time at first where success is likely. Then, the client and the clinician schedule weekly phone calls to carefully monitor the client's progress during Transfer. Finally, the client sends speech evaluation information back to the clinic by email each week. So client's performance determines the selection of speaking tasks.
The transfer progresses from easy speaking situations gradually to more difficult situations when the client is ready. We do not push clients into speaking situations that they are unable to be successful in. Transfer lasts about six months to one year. The client moves through transfer until they are speaking with anyone they want all day long.
Finally, the client comfortably succeeds in the most difficult speaking situations that they have in their life. At this point, they feel confident as a speaker that has had a stuttering problem in the past. All of the speaking situations that are of lower difficulty are now easy once the client succeeds at the hardest ones.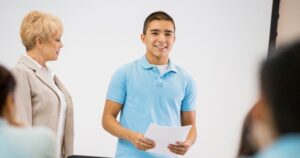 Adrian Before and After Stutter-Free Speech Program
The Stutter-Free Speech Program is a 5-day intensive one to one prolonged speech program available at the Power Stuttering Center. We replace stuttering with a way of talking that is incompatible with stuttering and sounds natural.
The DAF (Delayed Auditory Feedback) machine is used to allow the client to have feedback while he is learning rate control during the Stutter-Free Speech Program.
Carefully managed transfer follows the 5-day program with weekly phone calls.
a href="https://powerstuttering.lpages.co/leadbox/140e5bff3f72a2%3A137ef1fadb46dc/5736592127819776/" target="_blank" rel="noopener">