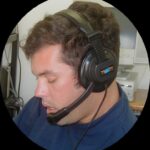 This intensive stuttering therapy program is a researched evidence-based treatment that replaces your stuttered speech with a new way of talking which is incompatible with stuttering. We begin with two hours of therapy in the clinic for five consecutive days.
You start this with a very slow rate of speaking during which you don't stutter from the first day of therapy. We use the Delayed Auditory Feedback (DAF) machine to help you control your speech rate. Gradually the rate is increased until it approximates normal speaking. At this point, we take you off the machine and you produce stutter-free speech in the clinic for short periods of talking.
During the last part of the intensive stuttering therapy program, you transfer this stutter-free speech into speaking situations outside the clinic and at home starting with very easy speaking situations and short periods of talking and gradually moving to more difficult situations until you can talk stutter-free all day long. This part of the program is completed at home and is monitored by weekly phone calls with the client. Success depends upon this carefully managed follow-up program which involves at least one year of daily speaking practice. Progress is monitored by weekly phone calls from the therapist.
Day by Day Description
Day 1
The first day of the intensive stuttering therapy program starts with practice on the DAF machine. This "Delayed Auditory Feedback" machine picks up the sound of your own voice with a headset microphone and sends it through a computer chip that delays your voice about a quarter of a second before it sends it back to your headphones.
Researchers have known for years that the DAF experience reduces or eliminates stuttering in most individuals. You hear an echo that sounds like someone else talking alongside you. The DAF signal is used to control your speech rate. If you speak VERY SLOWLY, you won't hear that echo. If you speed up, you will start to hear it. Of course, you are not stuttering AT ALL speaking at this very slow rate.
Try it now… Say "Hello, how are you?" at about 2 seconds for each syllable.
Hel – lo <pause>, how are you…
You'll probably need to take a breath in the middle. Notice that it's almost impossible to stutter at this rate. Try it with a trusted friend or family member.
We start out your training with single words, phrases, and simple sentences. You'll get really good at talking without stuttering while wearing this headset. For some, this is the first time in their lives that they can say anything they want!
Of course, you are talking ridiculously slowly and are wearing a headset. We'll fix that in the next few days of therapy.
Day 2
During the second day of intensive stuttering therapy, we review your ability to talk without stuttering using the DAF machine at a very slow speaking rate. While you are talking so slowly you learn to put words into phrases. It's important for your brain to have a plan of what you are going to say.
You also learn to keep your voice on all through each phrase. We call this 'continuous phonation" or continuous voicing. Research studies have shown that people who stutter don't do as well as others when they have to turn their voices on and off quickly. This is a "physiological" difference between stutterers and non-stutterers. The way to get around this is to keep your voice flowing on as much as you can.
Now, we are able to move the speaking rate gradually faster by changing the settings on the DAF until you are speaking at a normal speech rate using good phrasing and continuous phonation. You are now saying whatever you want to say during a normal conversation on the DAF machine without stuttering.
Next, we'll get you off that machine so you don't have to carry it around with you.

Day 3
During the third day of this intensive stuttering therapy program, we get you off the DAF. You won't want to wear a headset or other device while you're talking outside the clinic! You'll want to talk stutter-free without wearing anything.
We do this by taking the headset off and first having you speak without the DAF in that very slow, continuous voice. When you are comfortable saying what you want to say at the slow rate, you switch to the normal rate maintaining the phrasing, and continuous phonation skills that worked for you before. Switching back and forth is important to keep your skills that you learned at the slow rate just as strong when you are speaking stutter-free at a normal rate.
Have you noticed that you have been stutter-free since the first hour of therapy? We just started with what we know always controls stuttering and shaped it to a normal speech rate that sounds good. Most people report that not only are they, not stuttering but that they sound more organized and comfortable to others when they speak.
Almost there – – just two more days,
Day 4
Day 4 is when you experience talking at a normal speaking rate without stuttering and without the DAF machine for longer periods of time. You use phrasing to plan what you want to say and when you want to say it. Your voice is on during each phrase sounding better than before – even during fluent times – because you have no fear of stuttering.
Even though you can talk without stuttering in the clinic, you probably know that using your new skills outside in the real world is a different story altogether. Because of this, we put together a very carefully planned and therapist-directed transfer program. We start learning the system during the last few days of intensive stuttering therapy program so that you can be totally ready with a plan to use your new speaking skills when you go home.
By this time, you are ready to try this out on some other people – starting with your easiest speaking situations where you would probably do well anyway. We develop a speaking situation difficulty rating scale to make sure that you start at the bottom and work up. We want you to feel that you'll have a good chance of success in the speaking situations you choose. Sometimes we bring in close family members or trusted friends into the therapy room to begin the process.
Ready for the last day?
Day 5
Finally, you are ready to transfer your new stutter-free speech to your life back home.
You do this by;
1: Choosing the right person to speak to (the easiest person you know)
2: Choosing how long you are going to speak to them
In this way, you have a lot of control over your speaking situations – not like when you had to talk to anyone who came along, all day long.
You also evaluate how you think you did on each of the behaviors you learned. Did you use good phrasing? Did you keep your voice 'on' during the phrase? This way you can continually improve on your stutter-free speech. When you get really good at the easy levels, you'll want to move on to a little higher difficulty. As you are completely successful at each level, you are ready to conquer the next. You're done with this intensive stuttering therapy program when you are speaking to everybody you want – all day long – stutter-free.
You'll have a chance to arrange a free consultation with Mark Power.
Power Stuttering Center
949-552-5523