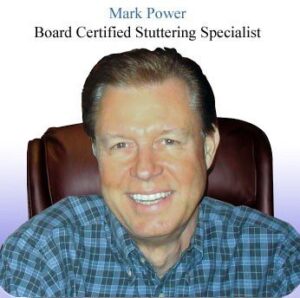 Why Do I Need a Board Certified Stuttering Specialist?
Mark Power M.A., CCC-SP, BCS-F is a stuttering specialist who has been treating people who stutter for the past 25 years. Mark has been awarded Board Certification in Fluency Disorders (BCS-F) by the American Speech Language Hearing Association and has served on its Task Force for Fluency Services in the Public Schools.
* Power Stuttering Therapy – Director
* Fluency Coordinator – Los Angeles County Office of Education
* Adjunct Faculty – California State University, Long Beach
* ASHA Board Certified Specialist in Fluency (BCS-F) – American Board of Fluency and Fluency Disorders
* CEU Provider – California Department of Consumer Affairs
Mark was once a severe stutterer himself and is dedicated to providing effective stuttering treatment to all people who stutter.
Mark presents "hands-on" training workshops on stuttering therapy techniques to many school districts, hospitals and practices in California, the United States and internationally. He has been on the faculty of the Communicative Disorders Department at California State University, Long Beach and was the Fluency Coordinator for the Los Angeles County Office of Education. Mark maintains a private practice in Orange County, California treating adults and children who stutter.