Financial Aid for Students Who Stutter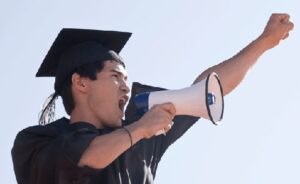 According to a national survey, 11.1% of undergraduate students reported having a disability including a stuttering disability. These students are entitled to the same quality of education as anyone else, even though they may face unique challenges. The  team of experts at the Affordable Colleges published a financial aid guide for students with disabilities that helps students:
Find specific scholarships based on their specific disability
Get the most from their state and local financial aid resources
Understand difficult concepts like loan forgiveness and reduction options
In addition, disabilities may include a visual impairment, a specific learning disability, an orthopedic impairment, hard of hearing/deafness, or a speech disability, among others. This includes a stuttering disability. Many of these students receive federal financial aid in the form of grants and loans, while some work part-time and/or receive financial assistance from their families to help pay for college. As medical and tuition costs continue to rise, however, more and more scholarships for students with disabilities are available to fill critical financial gaps.
A person with a disability is defined as someone who has or considers themselves to have, a long-term or recurring issue that impacts one or more activities that others may consider to be a daily function. This definition also includes the perception among others that a disability exists.
Federal, State and private authorities recognize stuttering as a disability. Please click the link below to search for scholarships and grants frequently given to college students with disabilities.
Also, each college or university is mandated by the federal government to provide a "Disabled Student Services Department" staffed by counselors who are assigned each disabled student to provide academic accommodations and counseling during the school year.
If you found this information valuable…
JOIN MY PRIVATE FACEBOOK GROUP 👇:
https://www.facebook.com/groups/StutteringTherapySupport/
Want personal help from me to overcome stuttering? Click on the link above to join my private Facebook group to get all the support you need.
DOWNLOAD ONE OF MY E-BOOKS FOR FREE IN WHICH I SHARE HOW I OVERCAME STUTTERING, MYSELF, FOR GOOD. Click on the link below to join
https://powerstuttering.lpages.co/stuttering-information-and-research-monthly-newsletter/
SUBSCRIBE TO MY YOUTUBE CHANNEL:
https://www.youtube.com/channel/UCQXcg4PsTQjhUKC8Pzq7Qrw
INSTAGRAM: https://www.instagram.com/powerstuttering/
FOLLOW ME ON:
TWITTER: https://twitter.com/powerstuttering
WEBSITE:   https://Stuttering-Therapy.om