Stuttering Therapy – Do No Harm?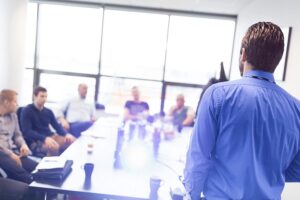 True story of a client that came to me
Last week, I started a stuttering therapy plan and treatment with a new client who stutters. During the initial evaluation of his stuttering, he told me about some of the previous stuttering therapy experiences that he had been through.
He told me about one stuttering therapy experience that I almost could not believe. Not too long ago, he was in therapy with a "stuttering specialist". He remembers going to five different stores where he was supposed to ask the store clerk a question. Supposedly to get used to his stuttering and lower his anxiety.
When he went into a large department store, he just couldn't get the words out. He tried again and again. He was so upset that he broke down sobbing in front of the store clerk and his therapist.
So he never went back to her. It took him a long time to get over that embarrassing experience.
Now, I understand that some therapists approach stuttering therapy with the idea that stuttering is OK. They say that the person who stutterers just needs to accept their stuttering. So they get used to it in front of other people. This may be because these therapists don't have a plan to replace the stuttering with a new way of talking that is fluent and natural. They are left with trying to show the client how to stutter more easily and to get used to their stuttering in all situations.
But, what this fellow went through was painful. He not only had a terrible experience, but he also decided that stuttering treatment was not for him and gave up on any kind of a solution.
Finding Effective Treatment
Published research studies show that there are effective behavioral therapies that teach a way of talking that is incompatible with stuttering. Unfortunately, most therapists lack the training to implement these strategies.
Even so, I think that any therapist that works with people who stutter should make their first priority – do not harm. Unfortunately, this didn't happen in this case.
Here at the Power Stuttering Center, we have several research based programs, especially for teenagers and adults. Please see the rest of the website for information on our stuttering therapy plan and treatment.